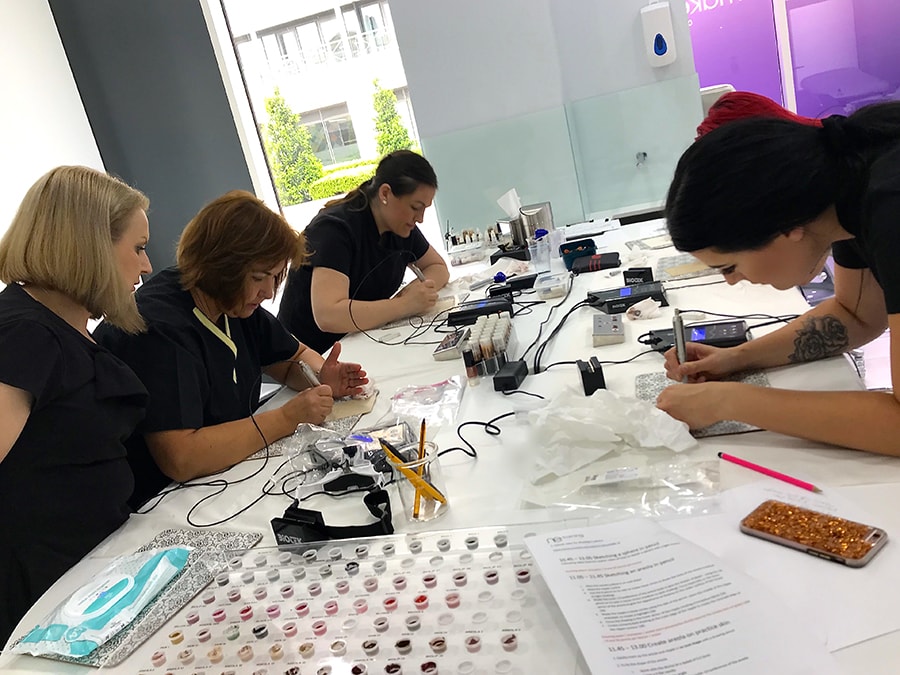 Posted by Tracey Simpson on in Treatment
In this day and age, we're lucky to have so many beauty products at our fingertips. Lipsticks and lip glosses have evolved to lip crayons and lip stains, and our eyebrows have arguably never looked better with the help of brow brushes and enhancers. But we are all looking for ways to stay effortlessly beautiful.
By offering lip tints that don't fade by the afternoon, and perfect eyebrows that don't wash off in the shower, semi-permanent make-up has revolutionised the industry. We want make-up with real staying power that can keep up with our busy schedules.
Treatments available to you
Microblading
Let's face it, the evolution of eyebrows has been exhausting. Once, thicker brows were everywhere, before thin, overplucked brows took over. But thick and well-defined brows are here to stay. For anyone who has fallen victim of severely plucking their eyebrows and wishes to add a little more volume, microblading is the answer.
This semi-permanent treatment involves making very fine incisions in the top layers of the skin and implanting pigment (colour) for a natural, feathered effect.
Eyebrow tattooing
If, for whatever reason, you find that microblading isn't right for you, eyebrow tattooing is another popular choice. Much like micropigmentation (a treatment used to give the illusion of hair growth), hair stroke eyebrow tattooing gives the effect of ultra-fine hair strokes that blend with the rest of your brows. Alternatively, ombre eyebrows give a fuller look, as if you have used a brow powder.
Lipliner and lip tint
If you are tired of the fuss of reapplying your lipstick throughout the day, semi-permanent lip liner and lip tinting can help.
Your specialist will work with you to define and enhance the natural shape of your lips using a tool with very fine needles to implant pigment.
If you love the look of a colour stained lip but you find it too much effort, you can also get a semi-permanent lip tint. Whether you want a subtle, natural blush or a bold red lip, semi-permanent make-up treatments mean you can enjoy beautiful colour for up to one year.
Eyeliner
Make-up trends have been and gone but eyeliner is here to stay. An essential part of many staple looks in 2019, semi-permanent eyeliner guarantees you the perfect base to any look. Even with the improved pencils and gels available today, it's difficult to create perfect winged eyeliner or cat-eye.
Expert beauty technicians will work with you to find the line and shape you have always dreamed of. Say goodbye to smudged, wobbly eyeliner and hello to defined eyes and thicker-looking lashes.
In 2019, there is simply no need to struggle with underperforming make-up products. Time is precious, so make the most of it by letting us take the stress out of achieving perfect brows, lashes and lips.
Book your free consultation today to find out how our specialists can help you.
Blog Home Page