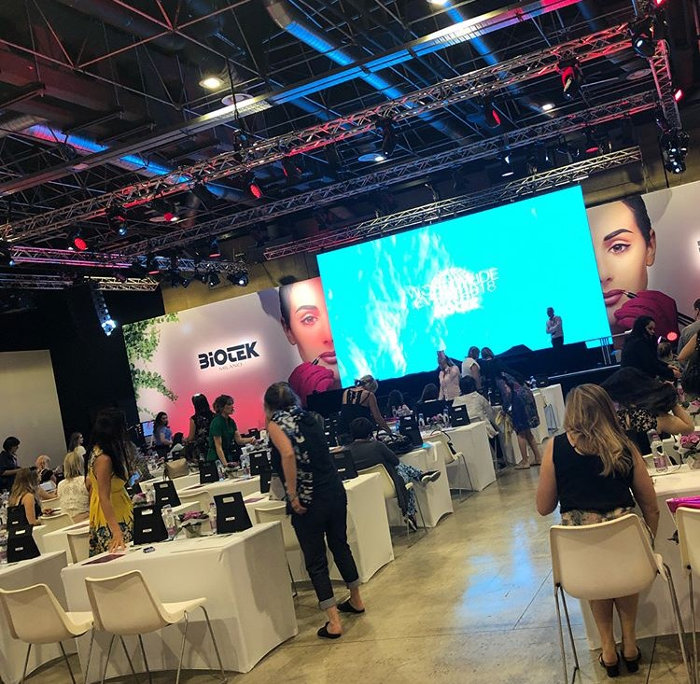 Posted by Tracey Simpson on in Training
Thursday 7th June
Despite the alarm waking me up so early it's still dark outside, I am so excited!
Today's the start of the 5th Biotek Worldwide Event and Permanent Makeup Championships in Milan…a big occasion in the Permanent Makeup calendar, and I'm going to be competing for the first time in the Expert Lip category!
This is the second time I've attended the event, as I went along last year and absolutely loved it but the first time I'll be competing.
I'm keen to get there early so I can get prepped for the Championship on Friday morning. There's a group of six of us heading there from Natural Enhancement so looking forward to spending some quality time with my work family too.
We arrive in Milan in time for breakfast and head straight to our hotel, right opposite the central station.
Friday 8th June
It's the morning of the Championship!
Although I am nervous, I did do a lot of practising and perfecting my technique back home, staying late on the Wednesday night to make sure I was 100% happy.
It was important for me to select the perfect colours and techniques to stand out from the rest but also ensure the treatment was achievable within the set time limit.
After the competition, we head out for dinner. The results will be announced on Sunday!
Saturday 9th June
Even though yesterday was quite intense, I was really pleased with my technique and I was keen to make the most of the weekend so was up early to pay a visit to the brand new state of the art, Biotek HQ. It is sensational!
It reminded me a little bit of our Natural Enhancement clinic in Kew, but on steroids!
I'm loving learning about the newest techniques, pigments and information in PMU, and as a Biotek Regional Director I do think it's important I'm involved with the events so I'm fully in the loop with everything that is going on with this amazing brand.
I'm also looking forward to watching a number of speaker presentations and live demos over the next few days. There's a number of star and talent shows to attend which are a great opportunity to ask questions to some of the best in the PMU industry.
Sunday 10th June
Wow I can't believe it! I've won 3rd place in the Biotek Worldwide Expert Lip Championship!
I'm so happy with the result and my Natural Enhancement family are so proud. It's great having them here to celebrate with me, especially Tracey Simpson, Director of Natural Enhancement and my work mummy.
It turns out to be double celebrations when my Natural Enhancement colleague Ramona Krusinskiene also finds out she came 2nd in the Microblading Expert (on synthetic skin) Championship!
Looking forward to heading out in Milan tonight to celebrate in style with the team!
Monday 11th June
We head home tomorrow, but what an amazing few days! Not only am I coming home with a huge trophy but I've also had the opportunity to work with the top PMU artist for my category which has been a real privilege.
I can't wait to get back home and put into practise some of the techniques I've seen.
The whole weekend has been fantastic, a proper learning experience full of inspiration and lovely to recognise lots of colleagues from the UK attending the event. The Permanent Makeup industry is going from strength to strength in the UK and I'm so proud to be part of it.
See you next year Milan!
Blog Home Page