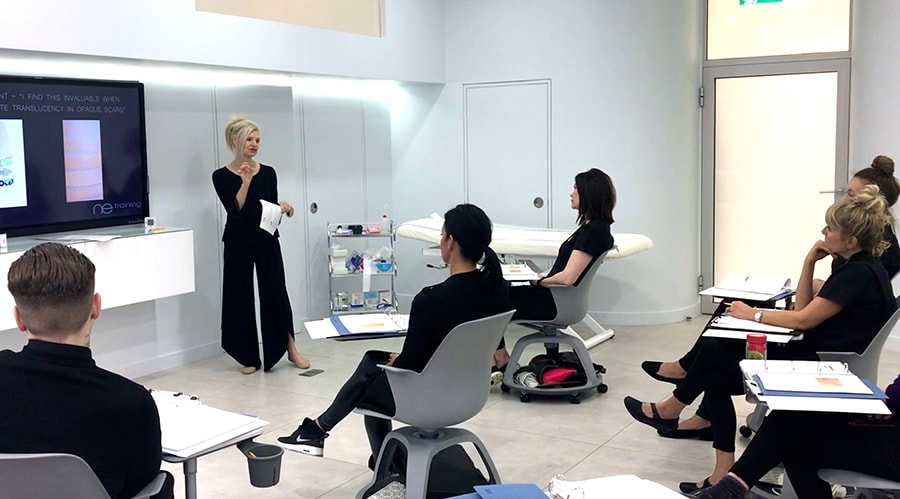 Posted by Tracey Simpson on in Treatment
Is Scar Camouflage Treatment Right for You?
Whether from life-saving surgery, experiencing a traumatic accident or from a naturally-occurring event such as childbirth, scars on your body are often a reminder of something significant in your life. While many of us only bear the scars from playing outdoors as a child, many people have scars they want to forget. Some products claim to reduce the appearance of scars, but for those who wish to remove them completely, scar camouflage treatment might be the answer.
What is scar camouflage treatment?
There are two key types of treatment to help reduce the appearance of scarring: scar tattoo treatments and digital needling. The process of digital needling involves generating 'micro-trauma' to the skin in order to stimulate the body's natural wound-healing response. For those with particularly raised or prominent scarring, digital needling can make your scars appear more even and less taut on the skin.
Scar tattooing is the process of adding pigmentation (colour) to a scar. It is a long-term solution to cover scarring performed by specialists using the highest-quality equipment to blend your scar tissues with the rest of your skin. Much like pigmentation treatments used in semi-permanent lip colour or tattoo eyeliner, scar camouflage matches the colour of your scar with your skin, reducing its appearance.
During your initial consultation, your expert technician will assess your scarring to see if this treatment can work for you. To ensure that the result is exactly what you want, your specialist may carry out microscopic colour-matching tests.
This allows your specialist to see how, over a month, the test areas respond to the pigmentation before going ahead with the full treatment. Depending on the size of the scar you'd like to cover up, multiple sessions will be required in order to achieve the desired result. Each session will last for around one hour.
Before your treatment
Before considering scar camouflage treatment, you must be sure that your scarring is suitable for the procedure. Generally, your scar must be at least one year old, not show any signs of redness or irritation, must be paler than the surrounding skin and must not be noticeably sunken.
As scar camouflage is based on accurately matching the colour of your scar to the natural colour of your skin, it is important not to begin the treatment if you have a tan. Whether you usually get tanning treatments from a sunbed, or by using fake tan, make sure your skin is its natural colour before your consultation.
What to expect after scar camouflage treatment
After each session, you can expect some redness around the scarred area for up to 72 hours. Your specialist will provide aftercare advice and products to ensure that you don't feel too much discomfort.
Due to the sensitive nature of your skin, it's important that you do not expose the scar to direct sunlight where possible. This will help the area to heal without any disruption.
If scarring has lowered your self-esteem and you are tired of temporary cover-ups, scar camouflage treatment can help to restore your confidence. Book your free consultation today to find out more.
Blog Home Page